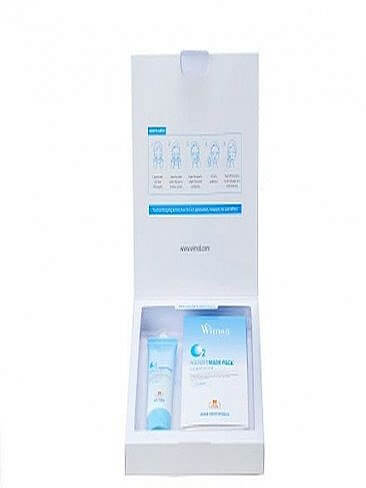 Wims8 CO2 Polymer Mask Set
In stock
A set of 5 masks and 1 gel tube. Increaces skin elasticity, has brightening effect and reduces wrinkles. Long-lasting effect based on the amazing new concept.
The mask set has multiple effects on your skin:
The pressure of carbon dioxide created by the mask supports blood circulation and increases elasticity of blood vessels. The skin is well nourished, the speed of production of the new cells increases. This has anti-ageing, healing and detoxicating effect. Other features of the mask are face-slimming, brightening and deep moisturizing.
Ingredients tube: Purified water, Butylene Glycol, Glycerin, Portulaca Oleracea, Carbomer, Citrus, Aurantium Amara flower extract, Sodium Acrylate/Sodium Acryloyldimethyl Taurate Copolymer, Isohexadecane, Polysorbate 80, Sodium Hyaluronate, Phenoxyethanol, Xanthan Gum, Caffeine
Ingredients mask: Purified water, Butylene Glycol, Glycerin, Sodium Bicarbonate, Phenoxyethanol, Xanthan Gum
How to apply: Cleanse and dry your face. Open the tube and apply the gel evenly on the entire face, avoid eye area . Open the mask pack and put the mask on; make sure it sticks well to your skin. After 30 minutes take the mask off, massage the residual gel and wash your face. The first to weeks apply the mask 2 to 3 times a week. Later, to maintain the effect, apply once a week.